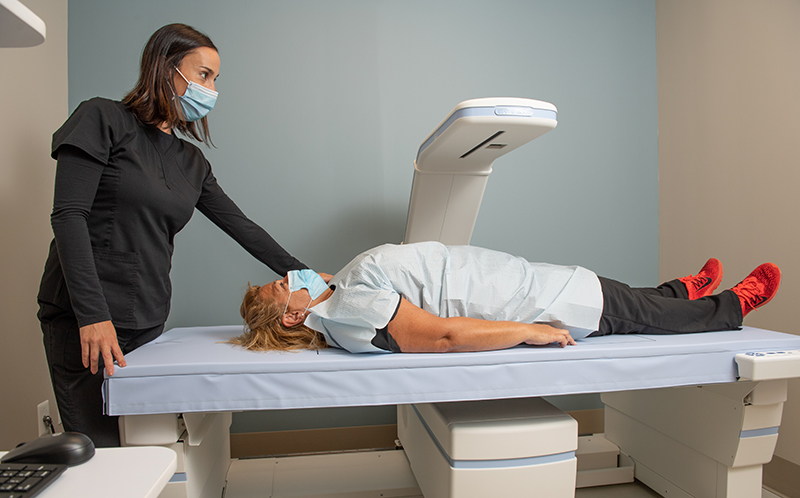 Screening for Osteoporosis & Other Bone Disorders
Many people who have osteoporosis are not diagnosed until they suffer an injury. Not many people think about the strength of their bones and trust that everything is working as it should. Unfortunately, bones can weaken over time, and some people (mostly women) will develop osteoporosis. Osteoporosis is a condition where small holes appear in the bones, making them more brittle and susceptible to injuries.
The Dual Energy X-ray Absorptiometry (DEXA) Scan in a painless, noninvasive imaging test used to measure bone mineral density. It Is currently the best means we have of diagnosing osteoporosis and osteopenia.
Measuring Bone Density
With AMI at Inspira, we typically use DEXA to scan the hip, spine, and forearm as these are the areas where osteoporosis usually begins. The scan uses two low dose x-rays which pass through the examined areas. The scan will come back with some of the x-rays being absorbed by bone, and others by tissue. From this, the radiologist can measure the bone mineral density and determine whether or not a patient has osteoporosis.
DEXA Scans are usually recommended for:
Women over age 65

Postmenopausal women with high osteoporosis risk factors

Women receiving hormone replacement therapy

Men and women who take medications that increase osteoporosis risk

Men and women who have had many broken bones and fractures in a short period of time
DEXA scanning is often used after you begin treatment for osteoporosis to monitor how well the treatment is working. There is no cure for osteoporosis, but treatment should halt the degrading of bone density.
Is DEXA Covered by Insurance?
Most insurers cover DEXA scans for women who have a high risk for osteoporosis. It is not usually covered in coverage plans for men, but it can be in certain circumstances. Medicare also covers one DEXA scan every two years for women over 65. Men with high osteoporosis risk factors are also covered under Medicare.
DEXA Scan Preparations
Unless instructed otherwise, eat normally on the day of the exam; but avoid taking calcium supplements for at least 24 hours prior to your appointment./span>

Wear loose, comfortable clothing. Sweat suits and other casual attire without zippers, buttons, grommets or any metal are preferred.

You should not have had a barium study, radioisotope injection, oral or intravenous contrast material from a CT scan or MRI within seven days prior to your DEXA test.
Note: A single forearm study will be performed if patient exceeds the weight limit of 300 pounds.